The Demand Of Punjabi Dhabas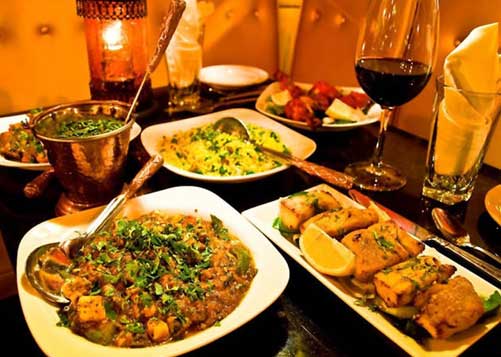 Dhaba a word used by Indians for a place similar to restaurants, but it is a roadside food stall, where delicious food is available at a less expensive price. One may not find the best of the lounging facilities at a Dhaba, but will surely relish its meals. The people of Punjab extensively use the word; and when it comes to an Indian Punjabi Dhaba, the list is never-ending. It was first used as a truck-stop at highways; where these truck-drivers could take a break; and have heavy meals, where they were served local cousins with rustic flavours that included food with tea, or lassi (buttermilk). These are broadly differentiated. For vegetarians, the name is Vaishno Dhaba; where the only vegetarian diet is served.
Dal Makhni is a very famous dish served in all these Dhabas; there are separate dhabas for a non-vegetarian diet as well. All the food is served in big plates called Thalis, seeing the heavy eating style of the truck-drivers. But, now, it is not just limited to these drivers but has expanded its horizon to welcome people from all social and economic backgrounds. Where there is a Punjabi, his needs are catered perfectly by it. The reason is probably that, a Dhaba serves heavily spiced and fried food, which a restaurant fails to provide, due to taste standardisation. Thus, Punjabi Dhaba has become a part of the culture of the Punjabi people.
It originated in Northern India but is now found anywhere in the Indian subcontinent or other countries where the South Asian diaspora have migrated in large numbers. With the rising globalisation and migration of Indians to almost every country, these dhabas are opening up in every nook and corner of the world. There are now a large number of Punjabi immigrants all over the globe, and many Punjabis have opened up dhabas in foreign lands. Many new service stations have recently opened up in Canada; where there are a large number of Punjabi immigrants. Now, a person sitting in Bangkok, Europe and America can easily find these Dhabas. Whenever one needs the Indian food at Boston, the one can easily avail that at best Indian food Boston. These dhabas have turned into a giant business house world-wide.
Within Punjab, the trend seems never-ending. It is attracting more and more urban population each day. Some dhabas have emerged out with the best of the facilities embracing the old taste of traditional dhabas. This combination of Desi (a word used to describe Indian) taste along with excellent and comforting lounging facilities has defeated many modern restaurants and even 5-star hotels. While travelling through the high ways, one may witness these broad and long-stretched Dhabas catering to not just the vicinity but to the travellers and also people who especially arrive to dine at these places. While travelling to New-Delhi; which is the capital city of India; one can see these dhabas in a huge number. At night these are decorated with colourful lights, to increase the visibility for the traveller. These are generally open 24/7 and cater to comforting the hungry stomachs.
Latest From the Blog